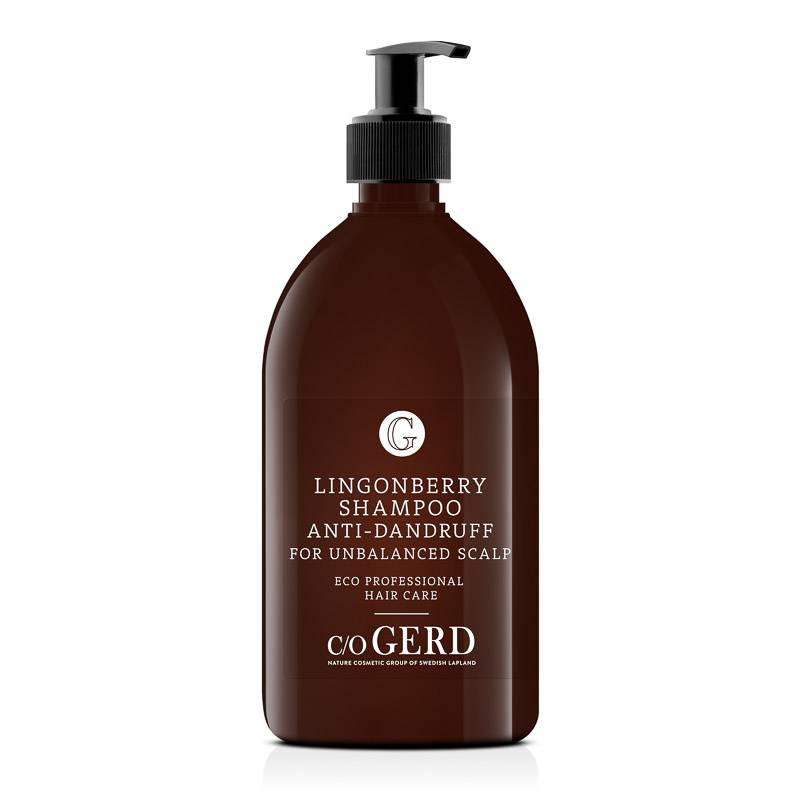 Lingonberry Shampoo 500 ml
Counteracts scalp problems like dandruff, oily scalp or itching.
Overview
|
LINGONBERRY SHAMPOO contains active lingonberry seed oil, that has anti-bacterial properties.
Counteracts dandruff and balances your scalp. Problems with your scalp? We hope to be able to help you with this once and for all. Here is a check list of things to think about: Stop using SLS (Sodium Lauryl Sulfate) has helped many people. A milder surfactant (lathering agent) can be the solution. Think about your sugar consumption. You scalp often mirrors how your stomach feels. Think about what styling products you use. Many products contain strong alcohols and silicones that can irritate your scalp. Our Eco Hair Care range is certified by GRÖN SALONG (green saloon). This means that our products are free from SLS, parabens, and other chemicals that can be harmful for humans or nature. Changing to milder surfactants (lathering agents) has a transition period of a few weeks, which means you will need to shampoo your hair twice when you shower. When you have cleaned your hair from plastic- and silicone residues, you will normally only need to wash your hair once.
Do you have problems with your scalp?
There is much to say about this topic and we have helped a lot of people to a problem-free scalp. It is important to know that the scalp is almost a mirror to your overall health. Stress, an unbalanced diet containing a lot of sugar, can be some of the reason to your scalp problems. We also believe that SLS (Sodium Lauryl Sulfate) is part of the problem with many conventional shampoos. SLS has a tendency to clean "too much" and therefore disrupt the scalp and skins natural balance. For a lot of people, it can be enough to stop using a SLS-based shampoo, and changed to a milder surfactant (lathering agent) to solve their scalp problems. Also, our Lingonberry Shampoo contains lingonberry seed oil which prevents unbalance in your scalp. You can leave the shampoo to sit for 1-2 minutes before rinsing.
Information
Ingredients: Aqua, Sodium Coco-Sulfate,?Lauryl Glucoside, Sodium Cocoyl Glutamate, Caprylyl/Capryl Glucoside*, Erythritol (from sugar), Sodium Levulinate, Sodium Anisate (rice strach), Caprylyl/Capryl Glucoside, Sodium Cocoyl Glutamate, Glyceryl Caprylate, Polyglyceryl-6 Oleate, Sodium Surfactin, Pca Glyceryl Oleate, Lactic acid, Mentha Piperita Oil, Aloe barbadensis leaf extract, PCA Ethyl Cocoyl Arginate, Aniba rosaeodora wood oil, Vaccinium vitis-idaea seed oil, Betula alba leaf water, Rosmarinus officinalis leaf oil, Citral**, Geraniol**, Limonene**, Linalool**. *Certified organic raw material. **Components naturally present in essential oils.
Our recomendations
Here are some of the best products in the c/o GERD range