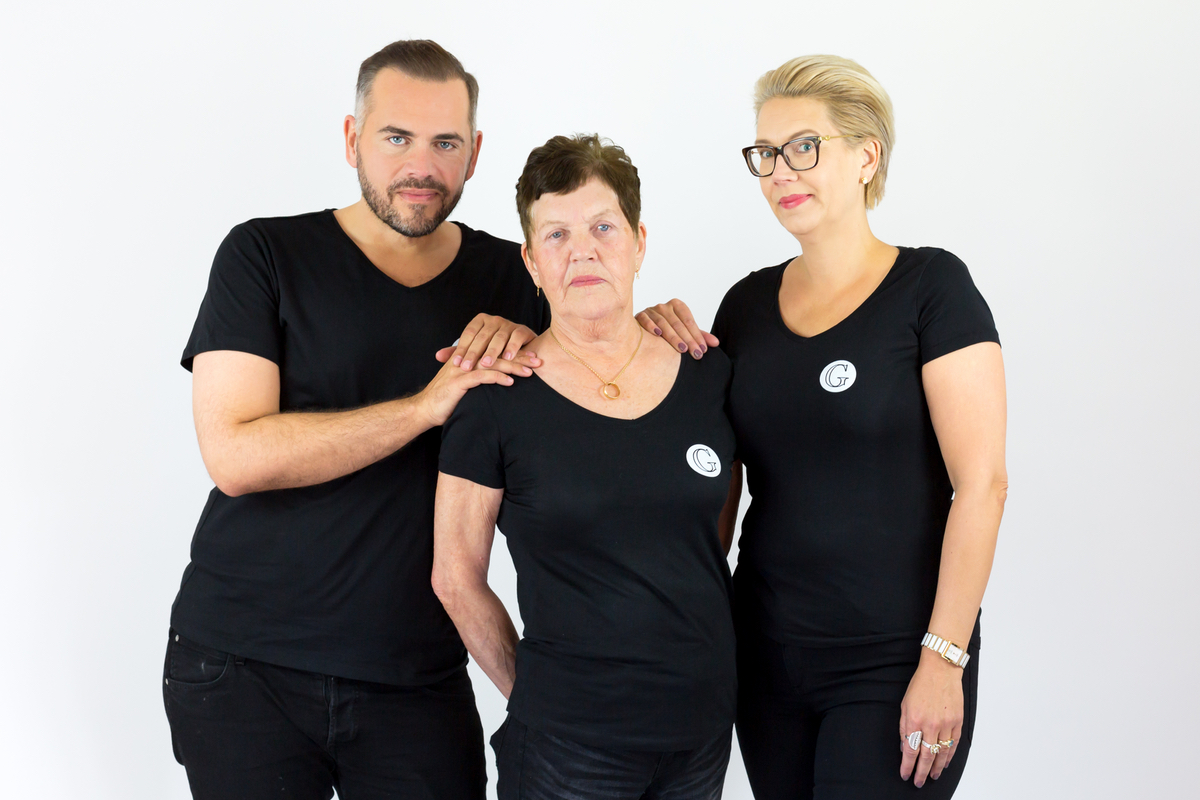 - OUR HISTORY -
In 2008 we, Anna-Lena Wiklund Rippert and Johan Wiklund, decided to for fill our dream to make use out of Swedish Lapland´s berries and herbs and make luxury cosmetics. The journey has taken us from a small basement to a modern factory facility, and now we are expanding and ten folding the production capacity.
We are both therapist, Anna- Lena says. –Together we are podiatrist, beauty therapist, masseur, spa therapist, hair dresser and make-up artist. –Yes, and you are ethnologist, and I am an accountant, Johan says. Our core values we decided day one and we have stayed faithful to them. We want to protect nature, animals and humans. Our active ingredients derive from seed oils, coming from blueberries, lingonberries and cloudberries.
Soon we realised that our backgrounds were unique. All products are produced from a therapists point of view and functionality. Today we know that no cream in the wold can remove wrinkles. The reason to use products is to moisturize, maintain and protect. Our philosophy might sound contradictory- we want to teach our consumers to use less products, and the products that they use should have a minimal impact on the environment. Every year 40 tons of micro plastics* are flushed out in the Baltic Sea, which is totally unacceptable. For example, In our products that exfoliate, we have seeds that are 100% degradable that give the same effect.
Today our main market is home, Sweden. Japan is our second biggest market but we also export to the LivNordic spa chain, that have their spa´s on the Viking Cruises luxury cruise ships, among other places. We also have an agent I Belgium and the Netherlands and at the end of this year we are preparing to launch in Germany. It is with pride we feel that we have helped to put Jokkmokk on the map. We have noticed that out factory shop has become a final destination for visitors in Jokkmokk. Not to mention during the Winter Market when the que to the shop is long.
We are raised with wonderful parents who both refined what nature had to give. Meat, berries, fish, herbs and roots, and always with the greatest respect for nature. Our mother is called Gerd and we wanted to celebrate her by naming the business c/o Gerd or Care of Gerd as we call it.

* källa Östersjöcentrum Stockholms Universitet

Facts

Business: c/o Gerd - Care of Gerd.

Located: Jokkmokk, Swedish Lapland Sweden

Employees: 9

Markets: Sweden, Belgium https://bioreine.be/ & Japan http://careofgerd.jp/

E-markets: Main markets Germany, England & USA. We ship World Wide.
Contact Us