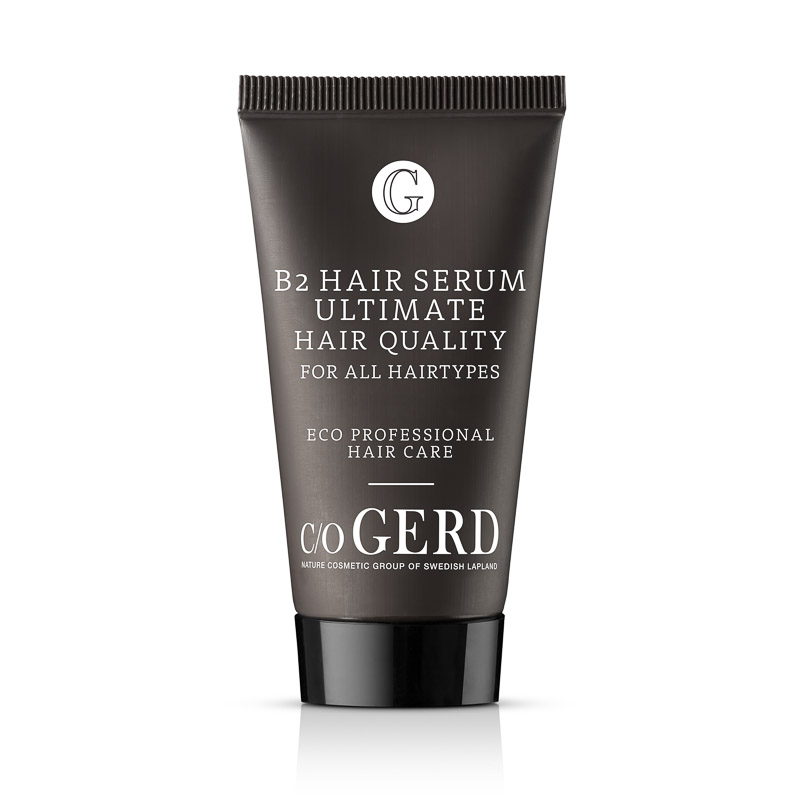 B2 Hair Serum
Hair Serum with silk and blueberry seed oil. Do not rinse!
Overview
|
c/o GERD's B2 HAIR SERUM is the ultimate leave-in product which rehydrates and maintains the condition of your hair, prevents your hair from frizzing and gives your hair an instant luster.
Blueberry seed oil is easily absorbed by the hair without weighing it down or becoming sticky.
How to use:
In damp hair: Apply a small amount before you comb your hair. Do not rinse.
In dry hair: Apply for extra luster or easy styling effect. Do not rinse.
Johan Wiklund, educated hairdresser, comments: When I developed B2 I was looking for a basic multifunctional product. It should be a "leave-in" product and have an untangling, moisturising effect, it should counteract elasticity and frizziness and provide some basic support. It took two years and 800 clinical tests, but now it is here!
B2 HAIR SERUM has different properties for different hair types:
Scandinavian fine hair
Your hair will receive a boost, a volume that you are not used to. A small amount of B2 HAIR SERUM will make all the difference.
Curly hair
Your hair needs extra moisture; you probably already know that. Towel-dry your hair and use a small amount of B2 HAIR SERUM, massage into your hair. You optimise the moisture in your hair and your curls will be stylish and totally without frizz.
Asian hair
B2 HAIR SERUM will revolutionize your hair experience. Volume and Asian hair are not always compatible. Our test group with thick, Asian hair almost cried, out of joy.
Split ends
Ok, I know it's bold of me to say this, but throw away all of your oils and whatever it is you use to prevent split ends. B2 rehydrates and repairs split ends. I promise.
Information
Ingredienser: Aqua, Hydrolyzed Silk (silkesprotein), Xanthan Gum (Från socker), Glyceryl Stearate Citrate (Från majs), Cetearyl Alcohol (Från kokos), Glycerin (Från raps), Sodium Levulinate (Från risstärkelse), Sodium Anisate (Från basilika), Citrus Nobilis Oil (Eterisk olja av mandarin), Citrus Grandis Peel Oil (Eterisk olja av grape), Glyceryl Caprylate (Från solros), Vaccinium Myrtillus Seed Oil (Blåbärsfröolja) Linalool*, Geraniol*, Limonene*, Citral*
(*naturlig ingrediens i eterisk olja).
Our recomendations
Here are some of the best products in the c/o GERD range