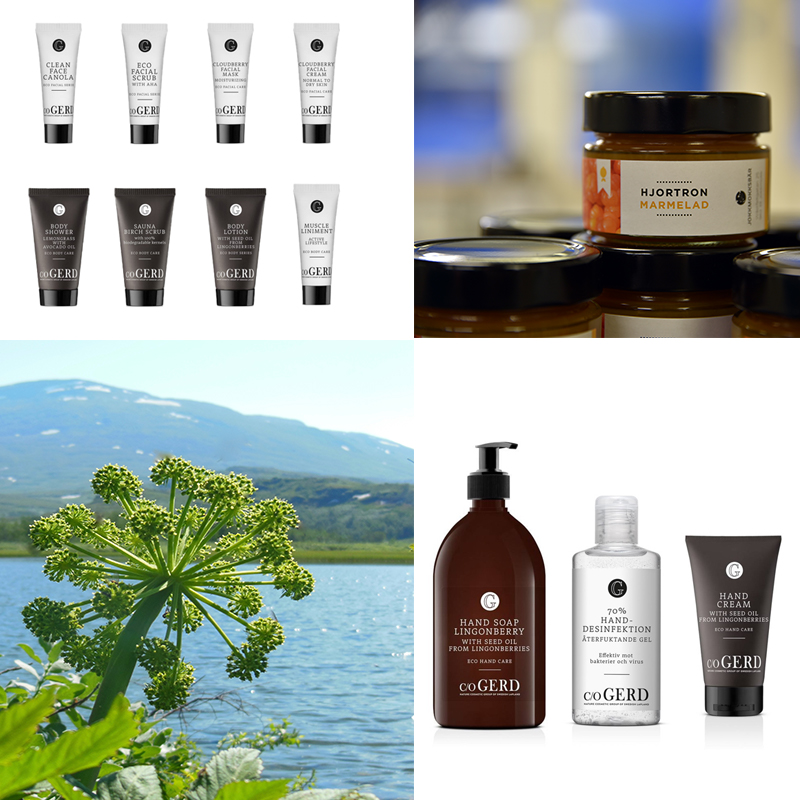 Taste of Jokkmokk
Overview
|
The packet includes:

Lingonberry hand Soap 500 ml
Lingonberry Hand Cream 75 ml
Handdesinfectant 100 ml
SPA AT HOME –
Clean face Canola 10 ml
Eco facial Scrub 10 ml
Cloudberry Facial Mask 10 ml
Cloudberry Facial Cream 10 ml
Lemongrass Body shower 30 ml
Sauna Birch Scrub 30 ml
Body Lotion Lingonberry 30 ml
Muscle Liniment 10 ml
Essense of Lapland – Herb guide- Eva Gunnare
Booklet about northern swedisg herbs and plants. Note! This is in Swedish!
Taste – A bag of roasted angelica seeds to use when cooking. A traditional sámi herb.
Jokkmokkbär – Berry processor- Karin Nordström
Cloudberry Marmelade 100g. Made from cloudberries picked around Jokkmokk.
Eat as you would an ordinary marmelade. It´s a treat!
Delivery
Our recomendations
Here are some of the best products in the c/o GERD range