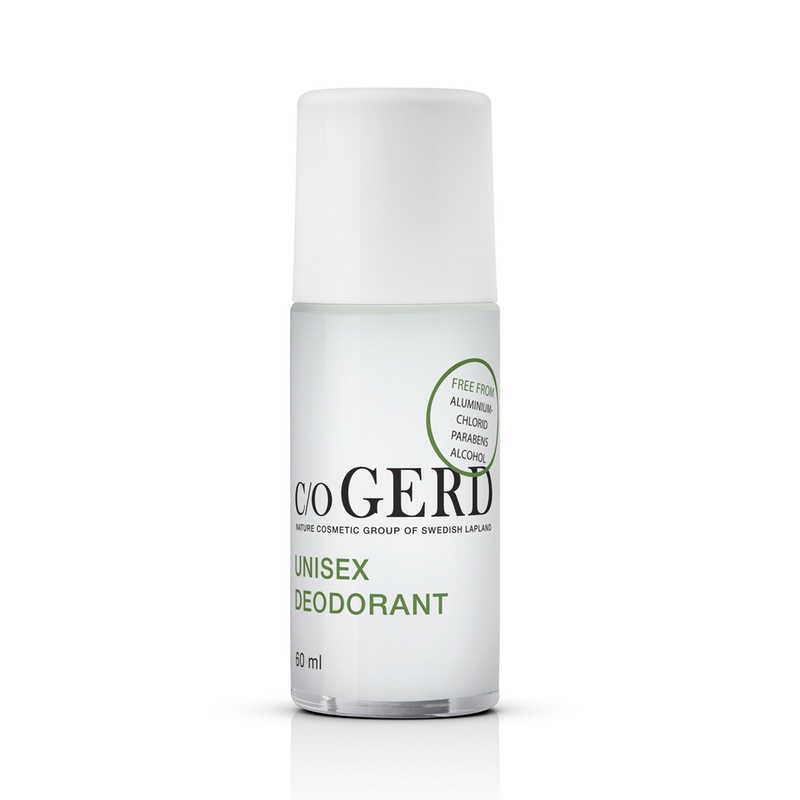 DEODORANT UNISEX 60 ML
Swedens No1. Aluminium Chloride free Deodorant.
Overview
|
UNISEX DEODORANT is a dry antiperspirant that preserves a fresh feeling all day long.

Counteract odours effectively without irritating the skin. COMPLETELY FREE FROM ALUMINIUM, FREE FROM PARABENS AND WITHOUT ALCOHOL
How to use: Daily. To be applied on dry skin.
c/o Gerd's Eco Deodorant receives a lot of attention because it is so effective. Here is a review from "A healthy dose of green".
Test of c/o Gerd's Eco Deodorant
Do you remember we wrote about c/o Gerd's organic deodorant a while ago? Some of you wrote to us and asked if we could do a review of this product, and of course, we had to oblige! Over a period of one month, three people have used this deodorant every morning to see if it does what it promises. So, what did they think?
The test panel's judgement
Many people who have tested an organic deodorant before have probably felt that they do not often work fully. The biggest problem is usually that they don't quite keep you dry all day. c/o GERD's deodorants do however promise to keep you dry! Well do they? Of course! Most of the people on the test panel said the deodorants exceeded their expectations.
One of the subjects expressed himself as follows:
"I have now been using c/o GERD's deodorant for about a month and I have always felt fresh and clean all day. Trust it!" Another big plus with the deodorant was the smell! It smells nice, of forest and wood, and has a unisex scent. The only minus was that the smell did not last very long. But even if the nice smell disappeared quickly, the deodorant continued to protect me from the smell of sweat throughout the whole day. "It can cope with both an ordinary day at work and a basic workout at the gym, it's a keeper".
Unisex deodorant is a No1. seller here at c/o Gerd.

In traditional deodorants there is a substance called Aluminium Chloride. The purpose with this substance is that it gets absorbed by the skin and clogs the pores to prevent the sweat from coming out. We do not believe in clogging and closing in. When we started to develop this product, it took us 2,5 years until we got it. Today, it is one of Sweden´s most sold Aluminium Chloride free deodorants, and it works!
Vegan
Free from Aluminium Chloride
Information
Ingredients: Aqua, Potassium Alum (deo chrystal), Triethyl Citrate (citric acid ester), Sodium Levulinate, Sodium Anisate, Sodium Bicarbonate, Xanthan Gum, Glyceryl Caprylate, Cupressus Sempervirens Oil (cypress), Aniba Rosaeodora Wood Oil (rose wood), Lactic Acid,
Citral**, Geraniol**, Limonene**, Linalool**. *Certified organic raw material. **Components naturally present in essential oils.
Our recomendations
Here are some of the best products in the c/o GERD range